Using audio feedback with distance learning students to enhance their learning on a Postgraduate Certificate in Higher Education programme
Agi Ryder

Middlesex University

Carole Davis

Queen Mary University London
References
Boud, D. (2010) Assessment 2020: Seven propositions for assessment reform in higher education. Australian Learning and Teaching Council, Sydney. Retrieved from https://www.uts.edu.au/sites/default/files/Assessment-2020_propositions_final.pdf
Carruthers, C., McCarron, B., Bolan, P., Devine, A., McMahon-Beattie, U., & Burns, A. (2015). 'I like the sound of that': an evaluation of providing audio feedback via the virtual learning environment for summative assessment. Assessment & Evaluation in Higher Education, 40(3), 352-370.
Charmaz, K. (2014). Constructing grounded theory. Thousand Oaks, CA: SAGE Publications.
Davis, C. (2014). Developing academics for the future: new thinking on teaching observations (Doctoral dissertation). Middlesex University, United Kingdom.
Davis, C. & Ryder, A. (2012). Using an Old Technology in a New Way or Using a New Technology in an Old Way? Exploring the Use of Audio Feedback Post-Teaching Observation. Middlesex Journal of Educational Technology, 2(1), 30-40.
Gray, D.E. (2014). Doing research in the real world. London: SAGE Publications.
Hepplestone, S., Holden, G., Irwin, B., Parkin, H. J., & Thorpe, L. (2011). Using technology to encourage student engagement with feedback: a literature review. Research in Learning Technology, 19(2), 117-127.
Hyland, F. & Hyland, K. (2001). Sugaring the pill: Praise and criticism in written feedback. Journal of second language writing, 10(3), 185-212.
Juwah, C., Macfarlane-Dick, D., Matthew, B., Nicol, D., Ross, D., & Smith, B. (2004). Enhancing student learning through effective formative feedback. Retrieved from Higher Education Academy Generic Centre: https://www.heacademy.ac.uk/sites/default/files/resources/id353_senlef_guide.pdf
Kemmis, S. (2009). Action research as a practice‐based practice. Educational Action Research, 17(3), 463-474.
McNiff, J. (2013). Action research: principles and practice. London: Routledge.
Nortcliffe, A. & Middleton, A. (2008). A three year case study of using audio to blend the engineer's learning environment. Engineering Education, 3(2), 45-57.
Price, M., Rust, C., O'Donovan, B., Handley, K., & Bryant, R. (2012). Assessment literacy: The foundation for improving student learning. Oxford: Oxford Centre for Staff and Learning Development.
Rotheram, B. (2007). Using an MP3 recorder to give feedback on student assignments. Educational Developments, 8(2), 7-10.
Rotheram, B. (2009). Sounds good: using audio to give assessment feedback. Assessment, Teaching & Learning Journal, 7, 22-24.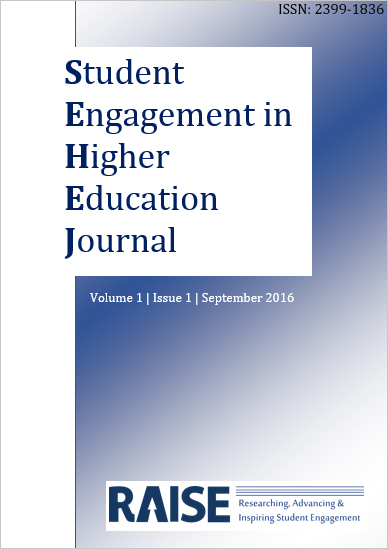 How to Cite
Ryder, A., & Davis, C. (2016). Using audio feedback with distance learning students to enhance their learning on a Postgraduate Certificate in Higher Education programme. Student Engagement in Higher Education Journal, 1(1). Retrieved from https://sehej.raise-network.com/raise/article/view/389
Section
Special Section - Case Study
Authors who publish with this journal agree to the following terms:
a.  Authors retain copyright and grant the journal right of first publication with the work simultaneously licensed under a Creative Commons Attribution License that allows others to share the work with an acknowledgement of the work's authorship and initial publication in this journal.
b.  Authors are able to enter into separate, additional contractual arrangements for the non-exclusive distribution of the journal's published version of the work (e.g., post it to an institutional repository or publish it in a book), with an acknowledgement of its initial publication in this journal.
c.  Authors are permitted and encouraged to post their work online (e.g., in institutional repositories or on their website) prior to and during the submission process, as it can lead to productive exchanges, as well as earlier and greater citation of published work (See The Effect of Open Access).