Developing Public Speaking Skills in Undergraduates: A Two-Day Event
Katie Rachel Carpenter

Royal Holloway, University of London

Claire Kennan

Department of History, Royal Holloway, University of London
Abstract
Public Speaking for First-Year Historians was an initiative which ran for the first time in June 2016 in the Department of History at Royal Holloway, University of London. The 2-day event was proposed and designed by 2 postgraduate research students who wanted to address the lack of formal training for presentations in history degree programmes. In particular, a key aim of the event was to engage students in skills and techniques for oral communication, especially practical exercises that could be implemented throughout their studies.  In outlining the aims of the initiative and the methods used to deliver the training, this article evaluates the success of student engagement strategies and analyses its potential for future development.
References
Bartholomay, E. M., & Houlihan, D. D. (2016). Public Speaking Anxiety Scale: Preliminary Psychometric Data and Scale Validation. Personality and Individual Differences, 94, 211-215.
Ferreira Marinho, A. C., Mesquita de Medeiros, A., Côrtes Gama, A. C., & Caldas Teixeira, L. (2016). Fear of Public Speaking: Perception of College Students and Correlates. Journal of Voice.
Fredericks, Jennifer A., Blumefeld, Phylllis C., & Paris, Alison H. (2004). School Engagement: Potential of the Concept, State of the Evidence. Review of Educational Research, 74, 59-109.
Gehrke, P. J. (2016). Introduction to Special Issue on Teaching First-Year Communication Courses. Review of Communication, 16, 109-113.
McCroskey, J. C. (1970). Measures of Communication-Bound Anxiety. Speech Monographs, XXXVII, 269-277.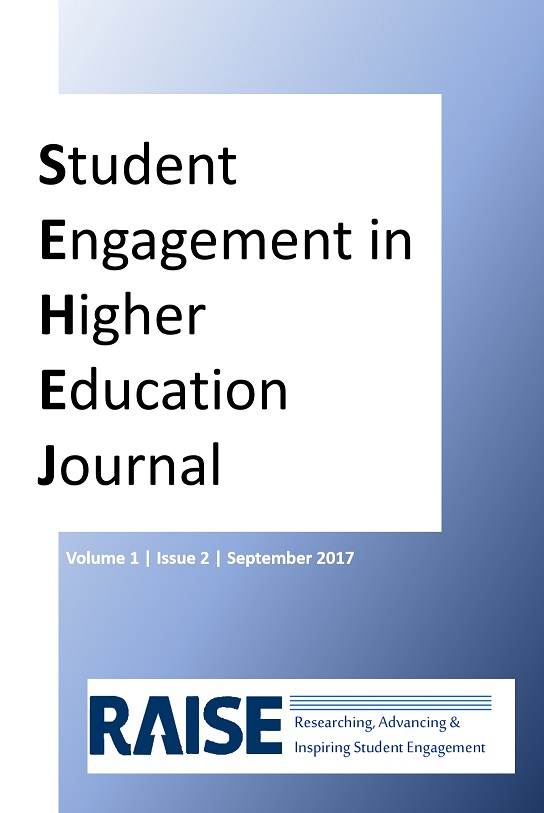 How to Cite
Carpenter, K. R., & Kennan, C. (2017). Developing Public Speaking Skills in Undergraduates: A Two-Day Event. Student Engagement in Higher Education Journal, 1(2), 117. Retrieved from https://sehej.raise-network.com/raise/article/view/carpenter
Section
Case studies/Practice Pieces
Authors who publish with this journal agree to the following terms:
a.  Authors retain copyright and grant the journal right of first publication with the work simultaneously licensed under a Creative Commons Attribution License that allows others to share the work with an acknowledgement of the work's authorship and initial publication in this journal.
b.  Authors are able to enter into separate, additional contractual arrangements for the non-exclusive distribution of the journal's published version of the work (e.g., post it to an institutional repository or publish it in a book), with an acknowledgement of its initial publication in this journal.
c.  Authors are permitted and encouraged to post their work online (e.g., in institutional repositories or on their website) prior to and during the submission process, as it can lead to productive exchanges, as well as earlier and greater citation of published work (See The Effect of Open Access).