Impact of centrally coordinated higher education pre-commencement of teaching student support initiative (FedReady) on student engagement: A regional university case study
Nina Fotinatos

Federation University (Director, Centre of Learning, Innovation and Professional Practice)

Ellen Sabo

Federation University (Manager, Student Futures, Centre of Learning, Innovation and Professional Practice)
Abstract
This case study describes how a dual-sector regional university in Ballarat (Victoria, Australia) developed and implemented a voluntary, no-fee, student academic capability supportive initiative in 2012. The initiative required 4-6 months of planning prior to the first delivery. The FedReady 5-day initiative was purposely designed to provide both domestic and international students from all disciplines, with knowledge, skills and opportunities to apply these skills 2 weeks prior to the commencement of their teaching semester. The initiative complements existing Federation University (FedUni) student academic support initiatives targeted at supporting students from low socioeconomic status backgrounds, first in family student cohorts and those who have minimal engagement experience with higher education. The initiative is co-delivered by both staff and student academic leaders (students employed as staff) and is delivered twice a year. The initiative is comprehensively evaluated using both qualitative and quantitative methods in conjunction with faculty and service centre staff.
References
Australian Learning & Teaching Council. (ALTC). (2011). ALTC project evaluation resource. Retrieved from http://www.olt.gov.au/system/files/Project_Evaluation_Resource.pdf
Devlin, M. & McKay, J. (2017). Facilitating success for students from low socioeconomic status backgrounds at regional universities. HEPPP report. Retrieved from https://www.researchgate.net/publication/316452343_Facilitating_success_for_students_fr om_low_socioeconomic_status_backgrounds_at_regional_universities
Kahu, E. R. (2013). Framing student engagement in higher education. Studies in Higher Education, 38(5), 758-773, doi: 10.1080/03075079.2011.598505
Kift, S., Nelson, K., & Clark, J. (2010). Transition pedagogy: A third generation approach to FYE - A case study of policy and practice for the higher education sector. The International Journal of the First Year in Higher Education, 1(1), 1-20. doi: http://dx.doi.org/10.5204/intjfyhe.v1i1.13
Nelson, K. & Creagh, T. (2013). A good practice guide: Safeguarding student learning engagement. Brisbane, Australia: Queensland University of Technology. Retrieved from http://safeguardingstudentlearning.net/wp-content/uploads/2012/04/LTU_Good-practice- guide_eBook_20130320.pdf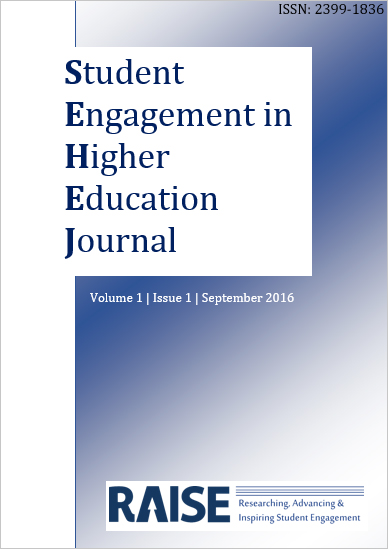 How to Cite
Fotinatos, N., & Sabo, E. (2018). Impact of centrally coordinated higher education pre-commencement of teaching student support initiative (FedReady) on student engagement: A regional university case study. Student Engagement in Higher Education Journal, 2(1), 86-92. Retrieved from https://sehej.raise-network.com/raise/article/view/Fotinatos
Section
Case studies/Practice Pieces
Authors who publish with this journal agree to the following terms:
a.  Authors retain copyright and grant the journal right of first publication with the work simultaneously licensed under a Creative Commons Attribution License that allows others to share the work with an acknowledgement of the work's authorship and initial publication in this journal.
b.  Authors are able to enter into separate, additional contractual arrangements for the non-exclusive distribution of the journal's published version of the work (e.g., post it to an institutional repository or publish it in a book), with an acknowledgement of its initial publication in this journal.
c.  Authors are permitted and encouraged to post their work online (e.g., in institutional repositories or on their website) prior to and during the submission process, as it can lead to productive exchanges, as well as earlier and greater citation of published work (See The Effect of Open Access).