'The SLL Resilience Programme: The Route to Success': Implementing Wellbeing Skills at the University of Reading.
Madeleine Kathryn Davies

The University of Reading
Abstract
This Case Study outlines the way in which a Resilience Programme was designed and implemented at the University of Reading in 2016, and it contains the results of the initiative. The Case Study discusses the motivation for the new Programme and explains some of the problems faced by my School, these informing the need to evolve a new student support resource.
The Case Study presents the content of the Resilience Programme and offers advice about avoiding 'rookie' errors in devising a similar Programme. The Case Study makes a strong argument for involving 'experienced' students to help deliver the Programme and for constructing student/staff partnerships.
The Case Study lists resources to guide readers in their development of a similar Programme, and it provides the results of our own initiative using available measurables (levels of suspension requests, levels of 'Extenuating Circumstances' requests, and so on).
The key insight of this Case Study involves the argument that HE institutions can and should be focusing on student resilience in order to enhance student attainment, wellbeing, and employability. It also suggests that the most effective way of approaching this issue is proactive (rather than reactive) and collaborative.
References
Brown, Joel H, amd Marianne D'Emidio-Caston, Resilience Education. London: Sage, 2001.
Brzycki, Henry G, and Elaine J. Brzycki, Student Success in Higher Education: Developing the Whole Person through High Impact Practices (London: BG Publishing, 2016.
Chapman Hoult, E (2009), 'Exploring Resilience', in Brown, T., (ed.), The Doctorate: Stories of Knowledge, Power and Becoming. The Higher Education Academy Subject Centre for Education Escalate, (online). Available at: http://escalate.ac.uk/6550.
Folke, C., S.R. Carpenter, B. Walker, M. Scheffer, T. Chapin, and J. Rockstrom, 'Resilience Thinking: Integrating Resilience, Adaptability and Transformability', Ecology and Society (15) 4, 20-28, 2010.
Gray, Peter, 'Declining Student Resilience: A Serious Problem for Colleges', Psychology Today, September 2015.
Roffey, Sue, Circle Solutions for Student Wellbeing. London: Sage, 2014.
Shaw, Jenny, 'Student Resilience – It's all about Empowerment', Higher Education: Policy, People and Politics, http://wonkhe.com/blogs/student-resilience-its-all-about-empowerment/
Shotton, Gillian, and Sheila Burton, Emotional Wellbeing – An Introductory Handbook. London: Optimus Education, 2008.
Simon, Gabriel H, Building Student Resilience, K-8: Strategies to Overcome Risk and Adversity. London: Sage, 2013.
Willis, Judy, 'The Science of Resilience: How to Teach Students to Persevere', The Guardian, January 12, 2016.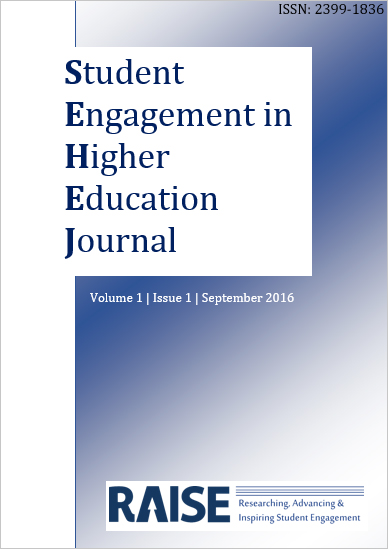 How to Cite
Davies, M. K. (2018). 'The SLL Resilience Programme: The Route to Success': Implementing Wellbeing Skills at the University of Reading. Student Engagement in Higher Education Journal, 2(1), 55-60. Retrieved from https://sehej.raise-network.com/raise/article/view/Davies
Section
Case studies/Practice Pieces
Authors who publish with this journal agree to the following terms:
a.  Authors retain copyright and grant the journal right of first publication with the work simultaneously licensed under a Creative Commons Attribution License that allows others to share the work with an acknowledgement of the work's authorship and initial publication in this journal.
b.  Authors are able to enter into separate, additional contractual arrangements for the non-exclusive distribution of the journal's published version of the work (e.g., post it to an institutional repository or publish it in a book), with an acknowledgement of its initial publication in this journal.
c.  Authors are permitted and encouraged to post their work online (e.g., in institutional repositories or on their website) prior to and during the submission process, as it can lead to productive exchanges, as well as earlier and greater citation of published work (See The Effect of Open Access).