How to help engage students in flipped learning: a flipping eventful journey
Gareth Bramley

University of Sheffield
Abstract
This case study example focuses on the use of flipped learning as a teaching method in Higher Education. The term flipped learning can be described as follows:
"In the flipped classroom, instructors prerecord lectures and post them online for students to watch on their own so that class time can be dedicated to student-centred learning activities, like problem based learning and inquiry oriented strategies" (McLaughlin J et al 2014).
Flipped learning allows for the in-class time to focus on higher order cognitive skills (Little, C 2015) i.e. it allows students to apply the higher levels of Blooms Taxonomy (Bloom 1956), such as the skills of analysis and evaluation, rather than not progressing beyond comprehension and knowledge. Therefore, the supporting literature suggests that deeper learning is achieved as a result (Orsmond 2004), and the ability of students to achieve a wider range of learning skills is encouraged (Bergmann and Sams 2012).
A flipped learning model of teaching was applied within the context of a final year undergraduate module, entitled Sale of Goods, on the law degree programme at the University of Sheffield. The module has been run as an elective module for a number of years, but since September 2015 the module ran using a flipped learning model.
In the 2015/2016 academic year, 'traditional' tutor led lectures were replaced with online screencasts (audio over PowerPoint slides) and lecture time was adapted to become student-centred large group interactive sessions. The primary motivation for introducing a flipped model of delivery was to encourage greater engagement from the students in their learning experience, in particular increased active learning rather than passive learning. Following this, in 2016/2017 continued work and development of the module was undertaken, including better scaffolding and signposting of the flipped learning resources, development of screencast content and length, and increased interactivity built into lecture time.
Volunteer students from the 2016/2017 cohort undertaking the module were asked to engage in 30 minute one-to-one interviews after undertaking the module, and qualitative comments were collated by the author. Funding was obtained from the University of Sheffield fund for learning and teaching in order to carry out these interviews, transcribe the interviews and analyse the results. These results will be considered in this case study. This case study also draws on academic literature to compare perspectives of incorporating this method of teaching into the HE curriculum. 
This case study summarises the reasons for implementing a flipped learning model, together with the key findings from such implementation. The key conclusions focus primarily on the potential benefits of incorporating flipped learning into teaching, with the central benefit being increased engagement from students. There are also comments on some of the challenges of this teaching method – the central challenges being the need for consistency and clear signposting, together with a large investment of time by staff in implementing such a teaching method.
References
Bergmann, J; Sams, A (2012). Flip your classroom: Reach every student in every class every day. International society for technology in education
Bloom, B. S. (1956). Taxonomy of Educational Objectives. New York: David McKay
Fox, D (1983). Personal theories of teaching, Studies in Higher Education
Hamdan, N; Knight, P (2013). The flipped learning model: a white paper based on the literature review titled a review of flipped learning.
Little, C. (2015). The flipped classroom in further education: literature review and case study. Research in Post Compulsory Education. Vol 20, No. 3
McLaughlin, J et al (2014). The Flipped classroom: a course redesign to foster
learning and engagement in a health professional school. Academic Medicine, Vol. 89. No. 2
Orsmond, P (2004). Self and Peer Assessment – Guidance on Practice in the Biosciences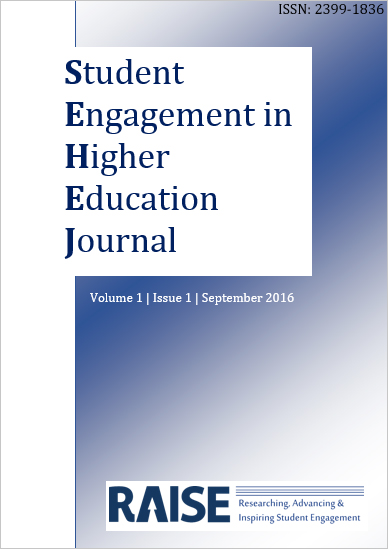 How to Cite
Bramley, G. (2018). How to help engage students in flipped learning: a flipping eventful journey. Student Engagement in Higher Education Journal, 2(1), 78-85. Retrieved from https://sehej.raise-network.com/raise/article/view/Bramley
Section
Case studies/Practice Pieces
Authors who publish with this journal agree to the following terms:
a.  Authors retain copyright and grant the journal right of first publication with the work simultaneously licensed under a Creative Commons Attribution License that allows others to share the work with an acknowledgement of the work's authorship and initial publication in this journal.
b.  Authors are able to enter into separate, additional contractual arrangements for the non-exclusive distribution of the journal's published version of the work (e.g., post it to an institutional repository or publish it in a book), with an acknowledgement of its initial publication in this journal.
c.  Authors are permitted and encouraged to post their work online (e.g., in institutional repositories or on their website) prior to and during the submission process, as it can lead to productive exchanges, as well as earlier and greater citation of published work (See The Effect of Open Access).