Faculty Student Engagement Officers: working in partnership
Wendy Garner

University of Chester

Becky Lees

University of Chester

Matthew Fletcher

University of Chester

Samuel Yates

University of Chester

Rajan Bhatti

University of Chester

Sarah-Louise Mason

University of Chester
References
Bartholemew, P., Brand, S., Nygaard, C., & Millard, L. (2013). Student engagement, identity, motivation and community. Farringdon, Oxfordshire: Libri Publishing.
Denzin, N. K., & Lincoln, Y. S. (2011). The SAGE handbook of qualitative research. London: Sage Publications.
Hammersley, M. (2012). Methodological Paradigms in Educational Research. British Educational Research Association. Retrieved from
https://www.bera.ac.uk/methodological-paradigms-in-educational-research
Lees, B., Garner, W., Fletcher, M., Gradwell, N., Harris, M., Heathcoate, M. … Wright, E. (2016). Changing educational practices: A study from the University of Chester. Journal of Educational Development Today. 1(3), 6-9.
Trowler, V. (2010). Student Engagement Literature Review. Retrieved from
https://www.heacademy.ac.uk/studentengagementliteraturereview.pdf
Velden, G.M., Naidoo, R., Lowe, J.A., Botas, P.C.P., & Pool, A.D. (2013). Student Engagement in Learning and Teaching Management: A Study of UK Practices, commissioned by the Quality Assurance Agency Project Report. Retrieved from
http://www.bath.ac.uk/learningandteaching/pdf/Project_Report_11.9.2013.pdf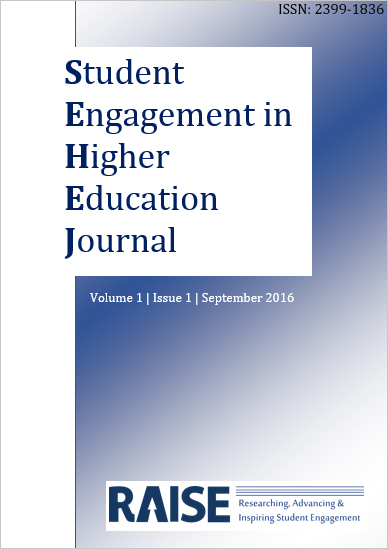 How to Cite
Garner, W., Lees, B., Fletcher, M., Yates, S., Bhatti, R., & Mason, S.-L. (2016). Faculty Student Engagement Officers: working in partnership. Student Engagement in Higher Education Journal, 1(1). Retrieved from https://sehej.raise-network.com/raise/article/view/395
Section
Case studies/Practice Pieces
Authors who publish with this journal agree to the following terms:
a.  Authors retain copyright and grant the journal right of first publication with the work simultaneously licensed under a Creative Commons Attribution License that allows others to share the work with an acknowledgement of the work's authorship and initial publication in this journal.
b.  Authors are able to enter into separate, additional contractual arrangements for the non-exclusive distribution of the journal's published version of the work (e.g., post it to an institutional repository or publish it in a book), with an acknowledgement of its initial publication in this journal.
c.  Authors are permitted and encouraged to post their work online (e.g., in institutional repositories or on their website) prior to and during the submission process, as it can lead to productive exchanges, as well as earlier and greater citation of published work (See The Effect of Open Access).