Using innovative assessment to enhance student engagement and develop critical thinking skills: the case of The Big Debate
Hilary Wason

Kingston University

Jane Southall

Kingston University
References
Anderson, L.W. Krathwohl, D.R., Airasian, P.W., Cruikshank, K.A., Mayer, R.E., Pintrich, P.R., Raths, J. & Wittrock, M.C. (2001). A taxonomy for learning, teaching, and assessing: A revision of Bloom's taxonomy of educational objectives. New York, NY: Longman.
D'Souza, C. (2013) Debating: a catalyst to enhance learning skills and competencies. Education and Training, 55(6), 538-549.
Elder, L. & Paul, R. (2008). Critical Thinking: The Nuts and Bolts of Education. Optometric Education, 33(3), 88-91.
Everett, J. (2013). Reflective Journal Writing and the First-Year Experience. International Journal of Teaching and Learning in Higher Education, 25(2), 213-222.
Freeley, A. & Steinberg, D. (2005). Argumentation and debate: Critical thinking for decision making. Belmont, CA: Wadsworth.
Kain, E., Buchanan, E. & Mack, R. (2001). Institutional Research as a context for teaching methodological skills. Teaching Sociology, 29(1), 9-22.
Kennedy, R. (2007). In-Class Debates: Fertile Ground for Active Learning and the Cultivation of Critical Thinking and Oral Communication Skills. International Journal of Teaching and Learning in Higher Education, 19(2), 182-190.
Kennedy, R. (2009). The Power of in-class debates. Active Learning in Higher Education, 10(3), 225-236.
Krathwohl, D. (2002). A Revision of Bloom's Taxonomy: An overview. Theory into Practice, 41(4), 212-218.
Mair, C. (2012). Using Technology for Enhancing Reflective Writing, Metacognition and Learning. Journal of Further and Higher Education, 36(2), 147-167.
McWilliams, R., and Allan, Q. (2014). Embedding Academic Literacy Skills: Towards a Best Practice Model. Journal of University Teaching & Learning Practice, 11(3), 1-21.
Moussa-Inaty, J. (2015). Reflective Writing Through the Use of Guiding Questions, International Journal of Teaching and Learning in Higher Education, 27(1), 104-113.
Mulnix, J. W. (2012). Thinking critically about critical thinking. Educational Philosophy and Theory, 44(5), 464-479.
O'Doody, O. & Condon, M. (2012). Increasing student involvement and learning through using debate as an assessment. Nurse Education in Practice, 12(4), 232-237.
Oros, A. (2007). Let's Debate: Active Learning Encourages Student Participation and Critical Thinking. Journal of Political Science, 3(3), 293-311.
Roy, A. & Macchiette, B. (2005). Debating the Issues: A Tool for Augmenting Critical Thinking Skills of Marketing Students. Journal of Marketing Education, 23(3), 264-276.
Scriven, M. & Paul, R. (2008) Defining Critical Thinking, Foundation for Critical Thinking. Retrieved from: http://www.criticalthinking.org/pages/defining-critical-thinking/410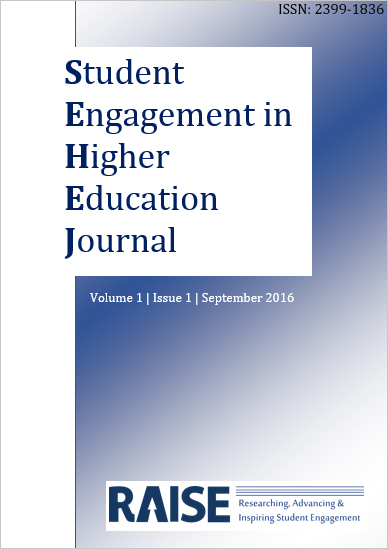 How to Cite
Wason, H., & Southall, J. (2016). Using innovative assessment to enhance student engagement and develop critical thinking skills: the case of The Big Debate. Student Engagement in Higher Education Journal, 1(1). Retrieved from https://sehej.raise-network.com/raise/article/view/390
Section
Special Section - Case Study
Authors who publish with this journal agree to the following terms:
a.  Authors retain copyright and grant the journal right of first publication with the work simultaneously licensed under a Creative Commons Attribution License that allows others to share the work with an acknowledgement of the work's authorship and initial publication in this journal.
b.  Authors are able to enter into separate, additional contractual arrangements for the non-exclusive distribution of the journal's published version of the work (e.g., post it to an institutional repository or publish it in a book), with an acknowledgement of its initial publication in this journal.
c.  Authors are permitted and encouraged to post their work online (e.g., in institutional repositories or on their website) prior to and during the submission process, as it can lead to productive exchanges, as well as earlier and greater citation of published work (See The Effect of Open Access).