Turning down the volume control on student voice in order to enhance student engagement
John Lea

Association of Colleges
References
BIS: Dept. for Business, Innovation and Skills (2011) Students at the Heart of the System. Cm 8122. London: HMSO. Retrieved from: https://www.gov.uk/higher-education-students-at-heart-of-system.pdf
BIS: Dept. for Business, Innovation and Skills (2016) Success as a Knowledge Economy: Teaching Excellence, Social Mobility and Student Choice. Cm. 9258 London: HMSO. Retrieved from: https://www.gov.uk/success-as-a-knowledge-economy.pdf
Humboldt, W. von, (1810) 'On the spirit and organisational framework of intellectual institutions in Berlin', reproduced in Minerva: A Review of Science, Learning and Policy (1970). 8(2), 242-267.
Zimmerman, J. (2016, March 20) It's not just Trump University: Colleges are diluting their courses by putting too much weight on student evaluations. Pittsburgh Post-Gazette. Retrieved from:
http://www.post-gazette.com/Op-Ed/2016/03/20/It-s-not-just-Trump-University/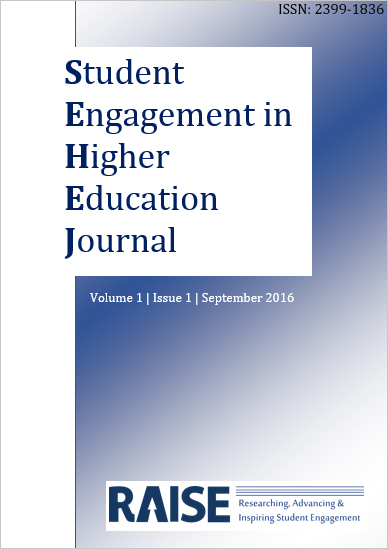 How to Cite
Lea, J. (2016). Turning down the volume control on student voice in order to enhance student engagement. Student Engagement in Higher Education Journal, 1(1). Retrieved from https://sehej.raise-network.com/raise/article/view/379
Authors who publish with this journal agree to the following terms:
a.  Authors retain copyright and grant the journal right of first publication with the work simultaneously licensed under a Creative Commons Attribution License that allows others to share the work with an acknowledgement of the work's authorship and initial publication in this journal.
b.  Authors are able to enter into separate, additional contractual arrangements for the non-exclusive distribution of the journal's published version of the work (e.g., post it to an institutional repository or publish it in a book), with an acknowledgement of its initial publication in this journal.
c.  Authors are permitted and encouraged to post their work online (e.g., in institutional repositories or on their website) prior to and during the submission process, as it can lead to productive exchanges, as well as earlier and greater citation of published work (See The Effect of Open Access).